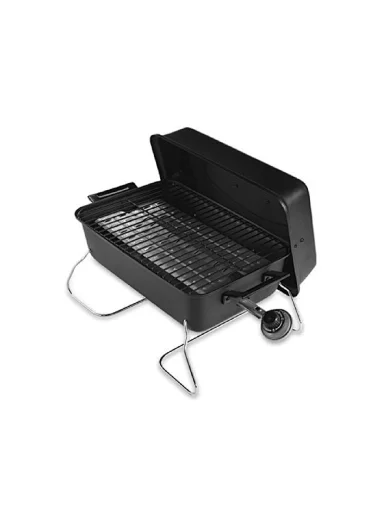 Standard Portable Liquid Propane Gas Grill
price
US $15.00 - US $16.00
Material: stainless steel
Size:24'' x 12'' x 15''(61x30x38cm)
Weight:10.2lbs/4.6kg
Package:Assembly with paperboard
PORTABLE CHARCOAL GRILL - Portable charcoal grills with dimension of 18 inches in diameter by 31.5 inches tall. The durable 18-inch diameter BBQ grill plated steel cooking grate provides an ample 255 square inches of cooking surface for any food on your grill. A perfect go-anywhere grill with insulated handles and upgraded durable wheels for outdoor camping making your friends or family float around the grill, hungry for tantalizing charcoal flavor of burnt food.

PERFECT HEAT CONTROL AND RETENTION - Adjustable rust-resistant vent damper allows for heat control without the hassle of lifting the lid. Two cooking grate handles make it easy to lift to add or adjust charcoal. Strong and durable plated steel charcoal grate design withstands the heat of any charcoal fire for direct or indirect grilling with this charcoal grate. The thick round porcelain enamel bowl and lid retain heat well to flow for even grilling.

EASY TO USE AND CLEAN - The inner lid hook under the lid can be hung on a bowl handle without hassle to lift or put on the ground. The under bowl ash drain and ash catcher become the best option to be a one-touch cleaning system. Just twist the ash leak to move the ash down into the ash catcher for easy ash removal and cleanup. Durable wheels make this charcoal barbecue grill easy to move and transport for outdoor tailgate picnics.

EASY TO ASSEMBLE & PERFECT GRILL: This Portable BBQ Charcoal Grill is easy to assemble with step-by-step instructions. The thick bowl and porcelain enamel-coated lid provide precise heat retention for more flavorful grilling. Simply adjust the vent damper to whatever grilling condition you desire. You'll love the superior smoky flavor and then enjoy your wonderful meal of filet mignon, burgers, steaks, chicken, mincemeat, turkey, summer squash, onion, asparagus and shrimp.

LIFETIME WARRANTY - We offer a lifetime replacement warranty on this charcoal grill. If you have any questions about our charcoal grills, please contact us seller immediately and we will do our best to solve your problem. Rest assured that your satisfaction and recognition are our top priority.